47th Annual Selma Railroad Days Festival
October 7-9, 2022
Downtown Selma, NC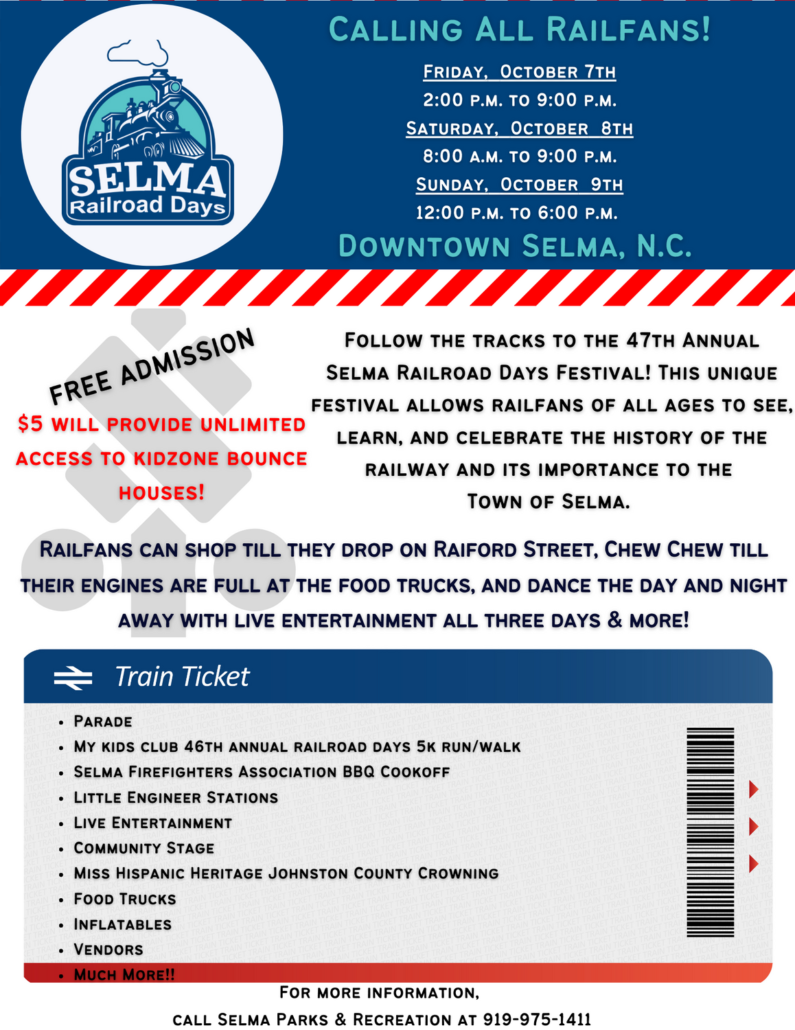 Railroad Days Applications
Click the link below to register online:
For more information, call Selma Parks and Recreation at 919-975-1411
Or email Alyssa Fox at afox@selma-nc.com.
Schedule of Events for the 2022 Railroad Days Festival
 
The Railroad Days Parade will start line up at 9:30am and will step off at 10:30 am from Selma Elementary School parking lot.



Main Stage Entertainment Schedule

Community Stage Entertainment Schedule
Sunday, October 9th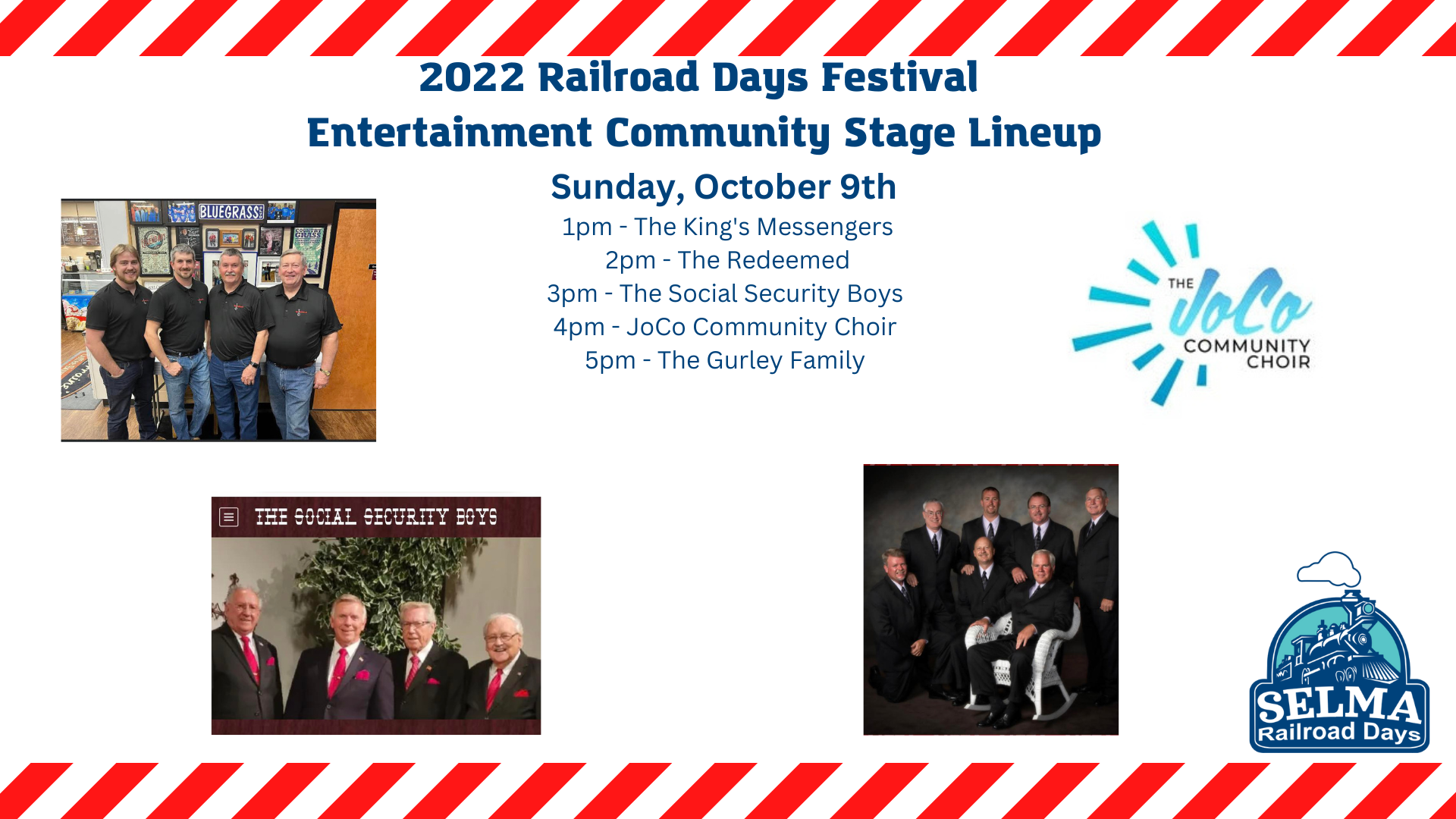 2022 Selma Firefighters Association Railroad Days BBQ Cook-Off & Sandwich Sale
Teams will cook butts on the 7th and prepare them for sale by 5:00 p.m. A taster choice competition will begin at 5:30 p.m. For $5 bucks you can taste and judge all team's BBQ. BBQ Sandwiches are for sale from 5:30 p.m. until sold out.
This year we will be adding a Rib Competition. The entry fee is $20.00 and is separate from the BBQ entry. Contestants will PROVIDE THEIR OWN RACK OF RIBS. Turn-in for rib judging is at 5pm.
To request a registration form email firechief@selma-nc.com. All registration forms and payments must be returned by September 30th. You can mail forms and payment to 201 N Webb St, Selma NC 27576, or drop them off in person with the Registration Fee.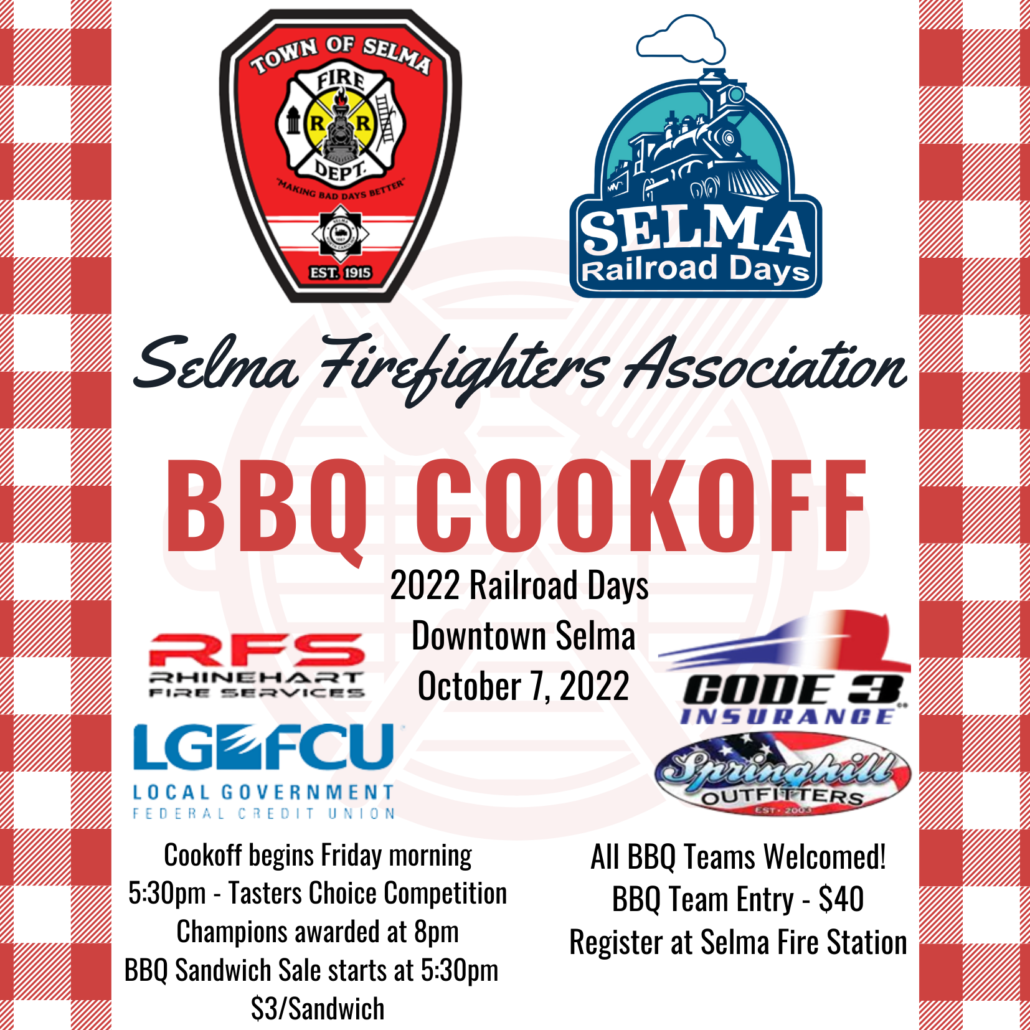 2022 Railroad Days Festival Pageant
And your new 2022 Miss Selma Railroad Days court is…
Fallyn Lindsay, Tiny Miss Railroad Days
Emilee Byrd, Little Miss Railroad Days
Scout Diehl, Junior Miss Railroad Days
Chloe Howell, Teen Miss Railroad Days
Ja'Naiya Pearce, Miss Railroad Days
Thank you to everyone that came and supported all the contestants! It was a fabulous night! Thank you to The Rudy Theatre, Live at The Rudy for the amazing venue!
You can meet the newly crowned court at Selma Railroad Days on 10/8/22!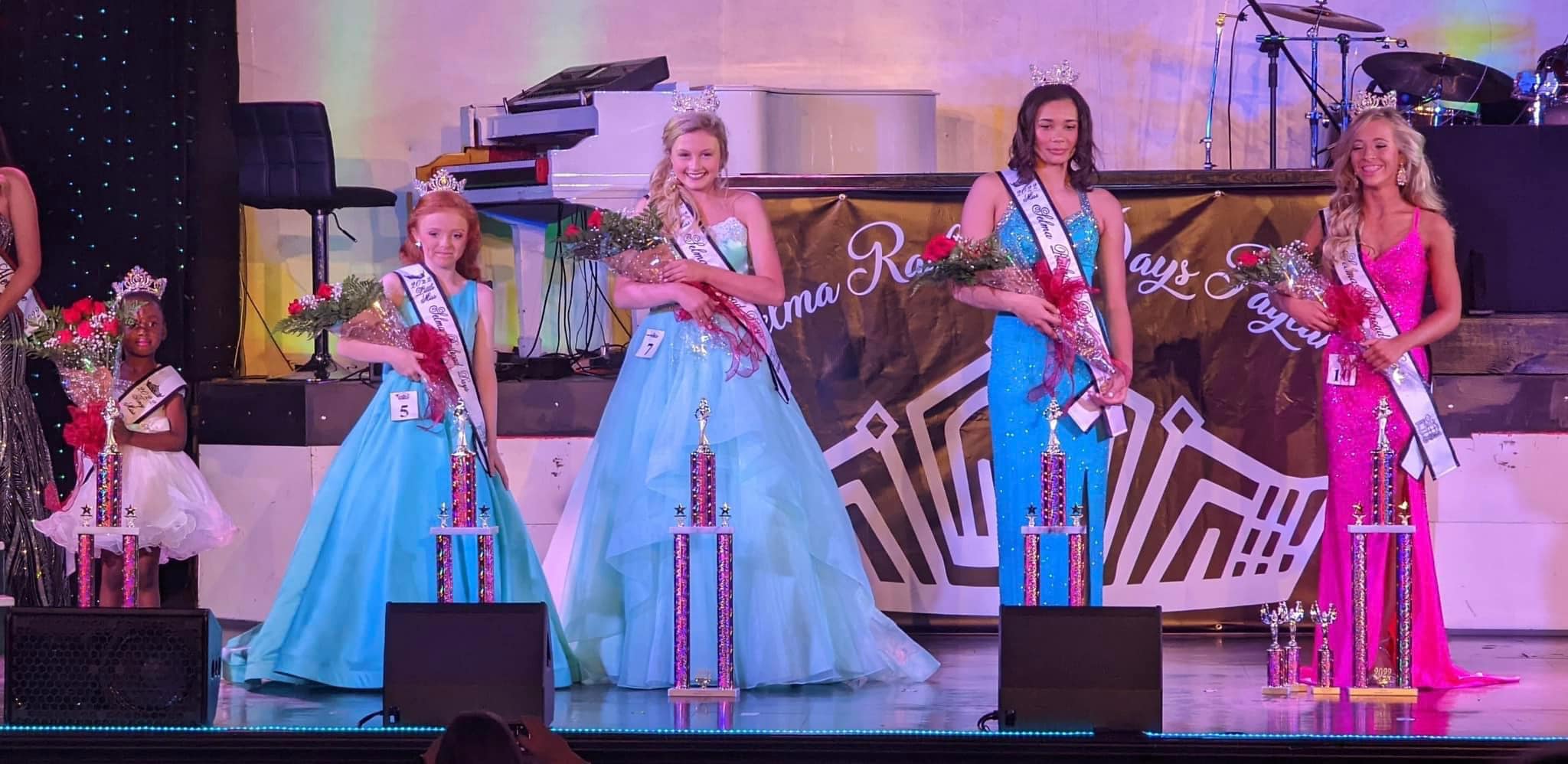 My Kid's Club 46th Annual Selma Railroad Days 5K Run & Walk
My Kid's Club's 46th Annual Selma Railroad Days 5K Run/ Walk is Saturday, October 8, 2022 at 8:30am. This 5K road course is a flat and fast USATF certified course. After the Run/ Walk, stick around to enjoy the all-day Railroad Days Festival fun with food, entertainment and more.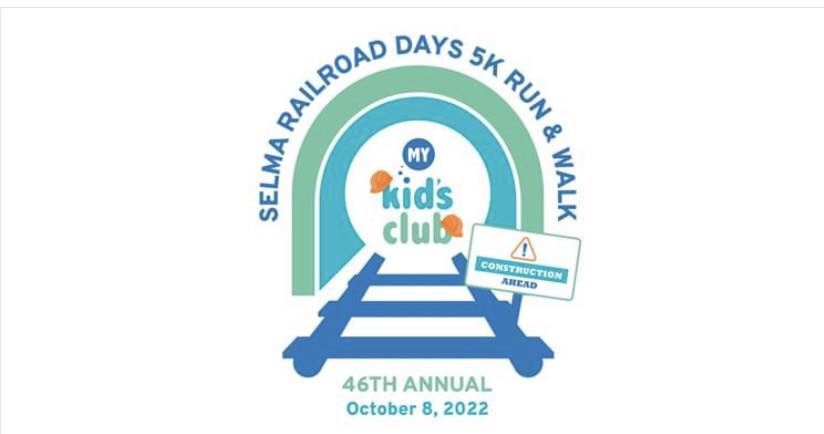 2022 Miss Hispanic Heritage Johnston County Pageant
The Miss Hispanic Heritage Johnston Pageant has been established to provide Latina/Hispanic girls the opportunity to grow as well-rounded individuals. High school-aged girls will complete an application and will raise funds for the charity of their choice. The young girl with the most money raised will be crowned the winner. The charity must be a 501(c)3 designated organization. Through participation in this program, candidates volunteer their time with local communities, experience important societal issues, develop professional and personal skills and showcase their talents.
Let us help make your dreams come true while helping your community. Take the next step and believe in yourself! You can do it! For more information contact the Town of Selma Parks and Recreation Department at 919-975-1411 afox@selma-nc.comand Sola Creations at 919-351-0120 solacreations@icloud.com.
MHHJC Application ENGLISH
MHHJCApplication SPANISH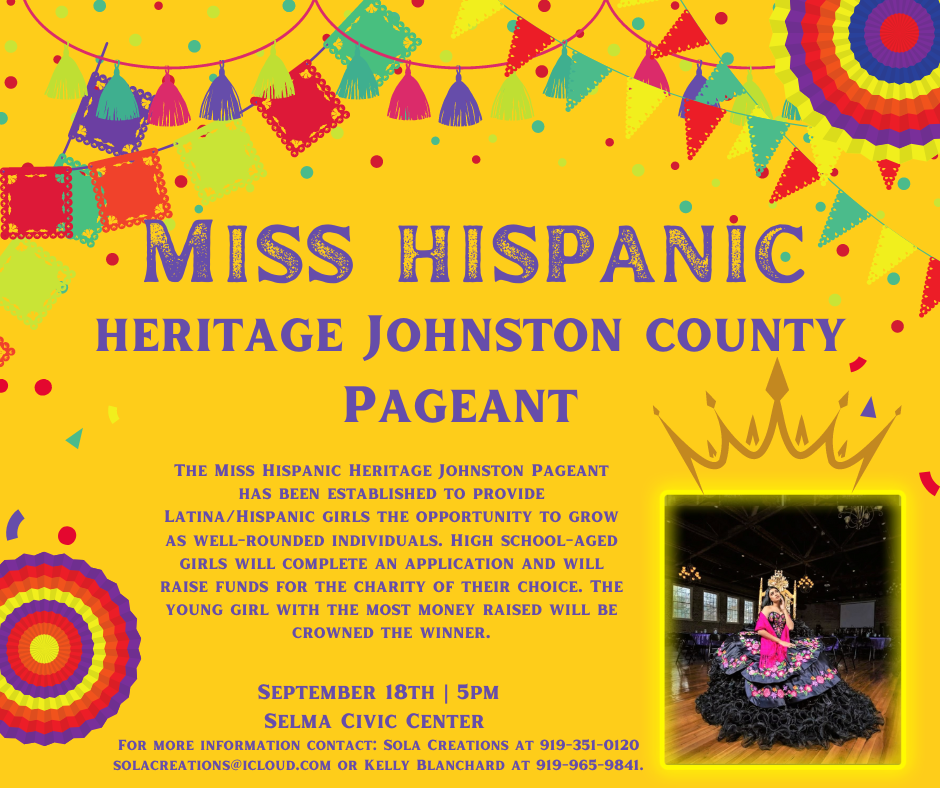 Railroad Day Festival Art Competition
There's still time for student's in grades K-12 in Johnston County to submit their train-themed artwork for the Selma Railroad Days Student Art Competition!!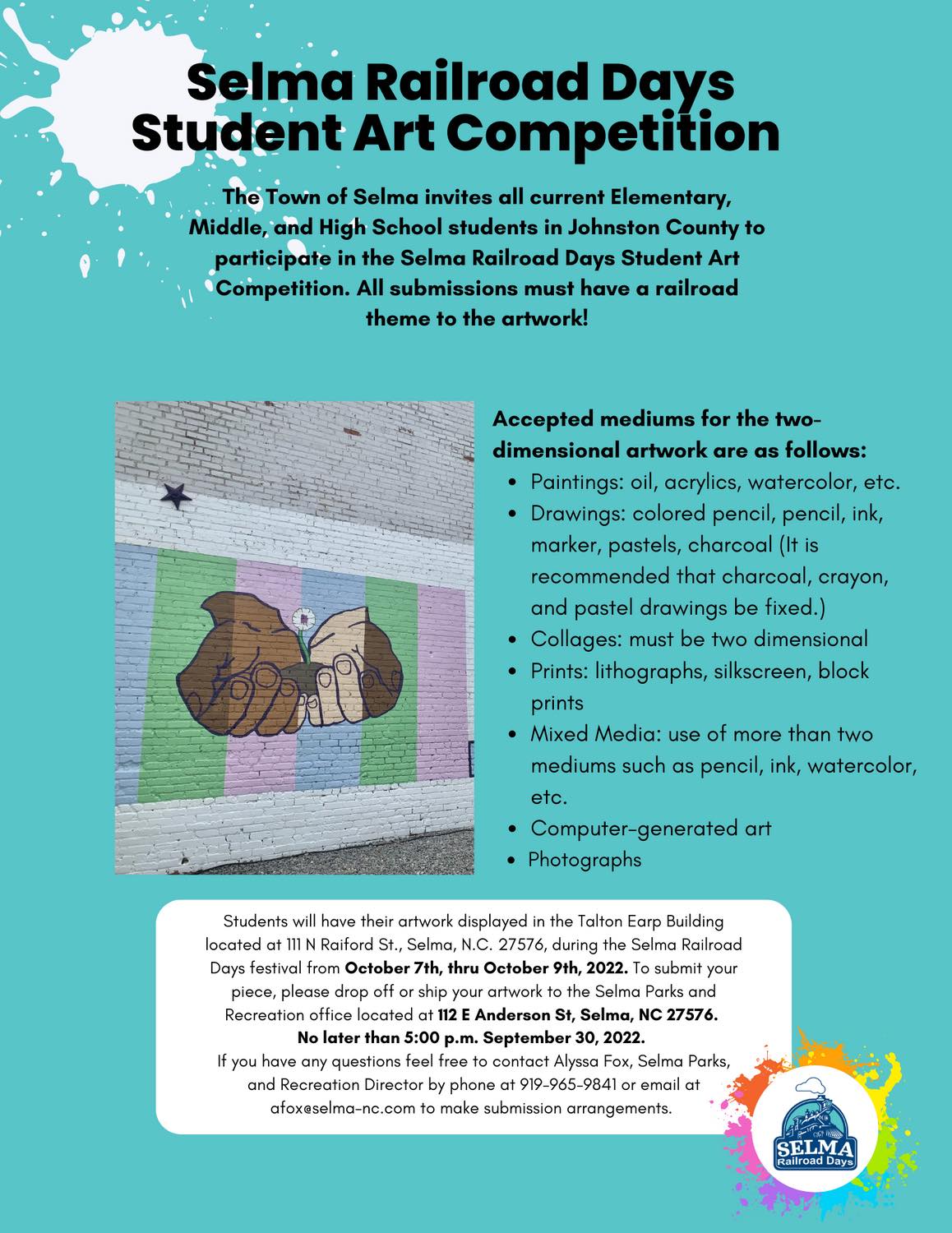 SELMA CYCLEPATHS RAILROAD DAYS RIDE
Sunday,  October 9th  @ 8:30 am.
​
We'll ride from Selma area on the 9th as part of the Selma Railroad Days celebration that weekend.
​This will be a DONATION RIDE only … i.e. there is no monetary registration requirement but everyone is asked to donate to the cause of eradicating MS (there will be a jar for your cash or check contribution).
View the routes on RideWithGPS.
Register for the ride here: srrd.wabmaster.net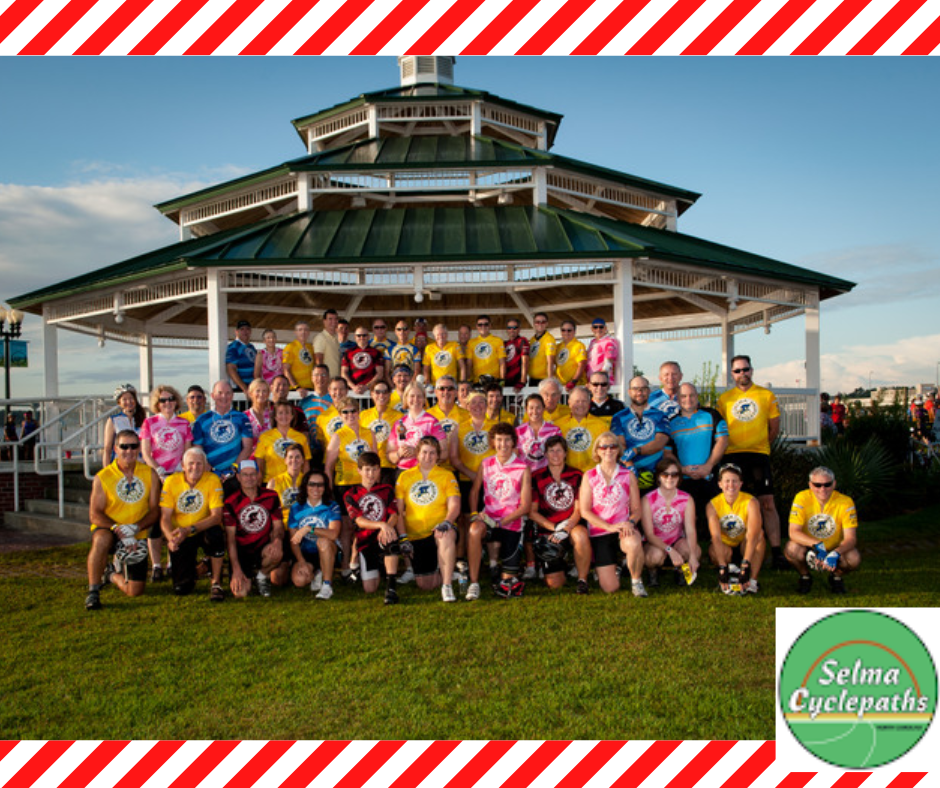 The ever popular All-Aboard Hollerin' Contest
To be held on the Activate Selma Community Stage on Saturday, October 8th at 2:00 pm
ALL ABOARD!!!!
Join us in celebrating Railroad Days.
There will be two categories:  Adult (ages 13+) and Youth (ages 0-12)
Perform your best impression of a train conductors "All Aboard".
REMEMBER:  Performers in costume will earn you extra bonus points.
Registration is at the Community Stage – Located at intersection of Railroad/Raiford Street – 1:30pm
Contest will start at: 2:00 pm
Winners will be determined by audience applause.
Winners will be presented to the public at 2:30pm on the Main Stage located at Walker's Auto Parts.
Click The Link For Our Frequently Asked Questions