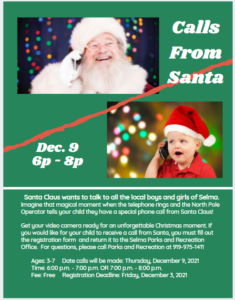 Imagine that magical moment when the telephone rings and the North Pole Operator tells your child they have a special phone call from Santa Claus!
Get your video camera ready for an unforgettable Christmas moment.
DETAILS:
Ages: 3-7
Date calls will be made:
Thursday, December 9, 2021
Time:
6:00 p.m. – 7:00 p.m
OR
7:00 p.m. – 8:00 p.m.
Fee:
Free
Registration Opens:
Monday, November 1, 2021
Registration Deadline:
Friday, December 3, 2021