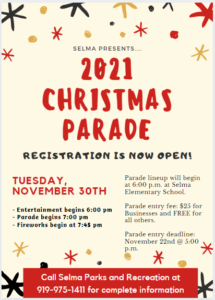 The Selma Christmas Parade and Tree Lighting is the perfect way to begin the holiday season and create a fun tradition with family and friends.
Watch as the parade makes its way down Raiford Street through the heart of Selma. See parade entries all lit up with twinkling lights and of course, watch for that most important visitor of all — Santa Claus!!
Selma will be hopping with excitement as the Christmas Season begins on this very special night.
6:00 pm – Entertainment begins at Town Hall – 114 N. Raiford Street
6:45 p.m. – Tree Lighting Ceremony
7:00 p.m. The ever-popular Christmas Parade begins!
The parade will begin at Selma Elementary School and make its way through town and continue the entire length of Raiford Street and then turn up Railroad Street and end once again at Selma Elementary.
The town will be lit up and the spirit will shine through all the lights and music and fanfare for the most anticipated visit from Santa at the end of the parade.
Immediately following the Parade, stay for the Fireworks Display (approx. 7:45pm)
Date: Tuesday, November 30, 2021
Entertainment Start Time: 6:00 p.m.
Parade Start Time: 7:00 p.m.
Fireworks Start Time: 7:45 p.m. – Immediately Following Parade
Please call Selma Parks and Recreation at 919-975-1411 for complete information